Pearse College are delighted to host the 2023 SCC Photography Competition for Further Education & Junior Schools in the CDETB area.
We are accepting entries now – via email (JPEG) only please.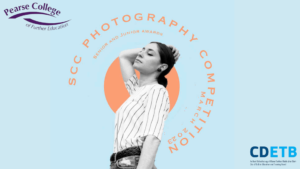 There are two categories:
Senior Awards for Students of Further Education
Junior Awards for Students under 18 from Higher or Secondary Education
Winners on 1st, 2nd, 3rd places in each category will win Vouchers from Conns Cameras.
All work will be printed and on Display at our Campus at Pearse College on March 16th during our Open Day. All Welcome. We will also have a Live Studio on the day – for portraits, headshots and demos. 
For entry forms and quesitons, contact sccphotographycompetition@gmail.com
Read More